Guacamayo Eco-lodge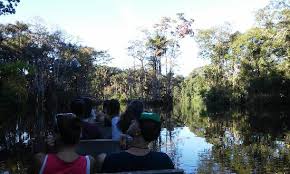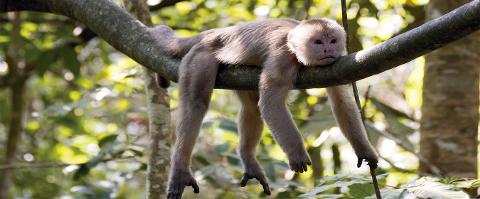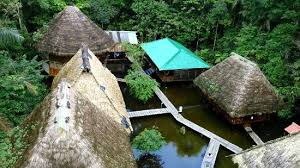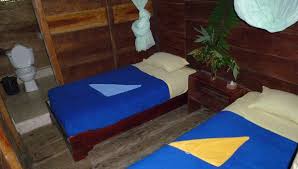 Duration: 4 Days (approx.)
Location: Quito, Ecuador
Product code: Guacamayo4day
Overview
Guacamayo lodge sets itself apart from other lodges right away with its impressive bird-watching tower where you can climb in to the canopy and be with the birds. There is no place quite like the flooded forests of Cuyabeno. Once you experience it's intrigue and beauty, the charm of it's rivers reflecting the emerging forests and skies like mirrors, the symphony of frogs, crickets, night birds and monkeys lulling you to sleep, the bird life, the plant life, the animals you will never want to come back to civilization.
Day 1 start the Adventure
DAY 1 Enter the Forest
Day 1: -Quito – Lago Agrio – El Puente . Flight (10:30 – 20 mins.) or bus ride (one day before – 8 hour ride) to Lago Agrio. Drive from Lago Agrio to El Puente. Afternoon: canoe trip down the Cuyabeno River to our camp site. Night: dinner and exiting night walk.
Day 2 - EXPLORE THE JUNGLE
EXPLORE THE JUNGLE
Day 2: Cuyabeno River. Three-hour hike in the primary forest to learn about flora and fauna, including lessons in the use of plants for survival. Late afternoon: Relax, sunset at Laguna Grande with a chance for some refreshing swimming and caiman (alligator) searching.
Day 3 - SHAMAN OF THE FOREST
Day 4 - SPLENDOR OF NATURE
CUYABENO
Day 4: Early morning birdwatching (5:30) and sunrise, breakfast at the lodge and at 9:30 return to the Cuyabeno bridge where we will have a box lunch and then you will be picked up by a shuttle bus which will take you to Lago Agrio so you can get back to Quito either by bus or airplane also.
Cuyabeno river. Morning: paddle by traditional dug-out canoe through small canals to enjoy the peaceful and quiet surroundings while looking for wildlife around. Late afternoon: watching the last sunset at the Laguna Grande.
Day 5 - BACK TO CIVILISATION
RETURN TO LAGO AGRIO
Day 5: El Puente-Lago Agrio-Quito. Early morning: Bird watching from a 25 meters high tower. Morning: journey up Cuyabeno River to El Puente. Drive to Lago Agrio (arrive in Lago Agrio in the afternoon). Flight or bus ride back to Quito.
AND FINALLY, I RETURN TO QUITO
ITINERARY
DAY ONE
Arrival to Lago Agrio
Transfer to the entrance of the national park
Lunch
Canoe ride to get to the lodge
Watch the sunset on the Lagoon
Dinner
Free time
DAY TWO
Breakfast
hike through the Amazon rainforest
Lunch
Free time
Dinner
We will take a Canoe and go out looking for Caiman
DAY THREE
Breakfast
Roughly 1.5 hour canoe ride to the community
Visit LAdy who shows you how to make Yuka bread
Lunch
Visit Shaman
Take the Canoe back to the lodge
Dinner
Night walk
DAY FOUR
If you take the the 4 day option
Breakfast
Leave the lodge by canoe
bus back to Lago agrio where the tour ends
If you take the 5 day option
Breakfast
Optional activity hiking or canoe ride
Lunch
Optional activity
Dinner
DAY FIVE
Breakfast
Leave the lodge by canoe
bus back to Lago agrio where the tour ends
WHAT'S INCLUDED
Meals from Lunch day 1 until lunch on day 4 or 5
Tea / Coffee and Filtered Water
Accommodation Double/Triple or Matrimonial cabin
Transportation from Lago Agrio to the Caiman Lodge and back to Lago Agrio
Bilingual Naturalist Guide
Rain Poncho and Rubber boots
WHAT'S NOT INCLUDED
Transport from Quito to Lago Agrio and back – return flights approx. $190 US – bus is between $12.50 US – $20 US
$5 US Contribution to Siona Community Visit
$5 US Contribution to Shaman Visit
Alcoholic / Soft drinks
TIPS
WHAT TO BRING
Sunglasses
Light Jacket / Raincoat
Flash Lights (Preferable LED for the night walk and caiman spotting activities)
Swimsuits
Sunscreen
Mosquito Repellent
Water Bottle
Long sleeved cotton shirts 2 or more
Long trousers 2 or more ( not jeans )
Shorts, 2 or more ( quick drying material )
T-shirts, 3 or more
Cotton socks, a pair per day
Comfortable walking shoes and sandals
Toiletries ( biodegradable shampoo and soap )
Binoculars ( optional )
Original Passport & copy
Zip-lock bags to keep clothes / equipment dry
COSTS
$250 US per person 3 days 2 nights
$290 US per person 4 days 3 nights
$340 US per person 5 days 4 nights